Personalized Mindful Practice
A personalized practice allows you to pick and choose the practices in the areas of mind, food, body that work with your lifestyle. It will also allow you to set specific goals in each area and schedule them on your calendar. You will be able to track your progress over time, check things off and make changes as needed.
What the Build Your Own personalized practice process looks like…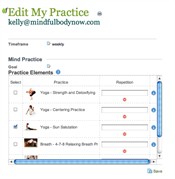 Determine Your Goals - determine what your goals are for your Daily Mindful Practice:

Choose Your Practices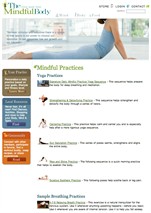 - pick the practices you want from a complete list of mindful practices including yoga, breathing and meditation.


Schedule it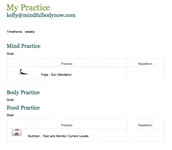 - Determine the duration of your practice
- Determine when you will perform your practice and schedule it on your calendar
We recommend that you begin by reviewing yoga, breathing techniques and mediation sections of the website. You can familiarize yourself with each section, try out sample practices from each area and begin building a Mindful Practice that best suits you and most importantly, inspires you.
Get Started...
Click on the button below to create a FREE account and build your own personalized practice.