written by Sarah C.
Have you ever found yourself looking at a salad full of bight colors and plump juicy contents and though, wow, that actually looks really good. Even if you are not a health nut a well made salad can draw most anyone in. I am frequently complimented on my salad making abilities which pleases me because I have cultivated the ability to navigate a salad bar as though it were a true artistic ability. The key is to think about color and variety. I truly believe that food that looks good tastes better! So here are my tips for creating a lovely and filling salad:
1. Greens - mix verities such as romaine, mescaline mix, spinach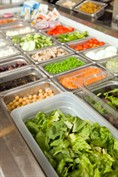 2. Veggies - use as many varieties as possible
3. A touch of fruit - strawberries, a few grapes
4. Grains - croutons are not a good choice but a little bit of grain goes a long way.
a. Try couscous, Quinoa and blackberries
5. Protein - try for 3 to 4 ounces of a clean light meat or protein source.
a. Some good protein choices are:
- hard-boiled eggs
- egg whites
- grilled chicken
- boiled or steamed shrimp
- grilled salmon
- roasted turkey breast
- water-packed tuna
- Tip: Salmon provides omega-3 fatty acids, making it a great choice for improving heart health while getting a protein boost.
b. If you don't eat meat, remember that you can get protein from other salad bar foods such as:
- Tofu
- Lentils
- Garbanzo beans
- Black beans
c. Other non-meat foods, such as walnuts, almonds and avocados, provide both protein and good fats. But watch your portions with these portions, as they are higher in calories and fat than the other options.
- Tip: Choose chopped nuts over slivered or whole so you can spread them out throughout your salad and therefore use less.
6. Dressing - 2 tablespoons or 1 ounce of a low fat or healthy fat dressing. A typical salad ladle holds 4 tablespoons, as do the little average to-go plastic containers offered at salad bars. Try to stay away from creamy salad dressings, such as ranch and blue cheese, which tend to be high in fat and calories - additionally they also cover the visual affects we are trying to add.
a. Tips for keeping dressing calories under control:
- A good rule with dressing is to put dressing in a small dish or cup before pouring on salad so that you can actually see how much you are using.
- Dip your fork into a small container of salad dressing before you spear your salad, rather than pouring it on
- Try one of the many spray dressings, which make portion control easier and only provide one calorie per spray (about 10 spritzes are suggested for every cup of salad).
b. If you can't find a light dressing that suits you, consider making your own. An olive oil and vinegar mix is a good choice, if used in moderation. Simply combine one part olive oil to two parts vinegar, adding additional herbs and spices to taste.
c. Or, if you find a regular dressing recipe that you like, healthier substitutes such as reduced-fat yogurt, buttermilk, or cottage cheese can replace mayo, and tomato juice or fruit juice can be used to replace some of the oil required in the recipe.
d. Other health conscious options include adding the juice from a few lemon wedges to your salad or using picante sauce or salsa as dressing.
e. Tip: Those handy dressing packets provided at some restaurants don't provide automatic portion control. They often hold four tablespoons (at least two servings), and can be loaded with unhealthy fat.

Remember to think presentation as well as content. Salads can be changed and adapted to anyone's pallet or diet. You can also create your own salad bar by keeping lots of chopped fruits and vegetables on hand that you easily throw together to create a salad in a flash. Change the ingredients to create completely different flavors, and you will never get bored with healthy salad meals.
Now, go forth and create your perfect salad!